All-on-4 vs All-on-6
May 27, 2020
460 Views
0 Comments
Dentures All-on-4 vs All-on-6
Tooth loss is an extremely common phenomenon among aging individuals. In fact, reports suggest that about 40 million Americans are missing all of their upper and lower teeth. The commonly sought after dental treatment for missing or lost teeth are dentures. Dentures, however cost-effective and functionally-efficient do not check all of an individual's checklist as they come with many of their own overbearing shortcomings.
In order to create a tooth-loss solution that was both minimally invasive and long-term, many experts in the field of implantology and prosthodontics have come up with an advanced treatment program known as the "All-on" dental concept.
"All-on" concept and what is t
he 

dental implant concept?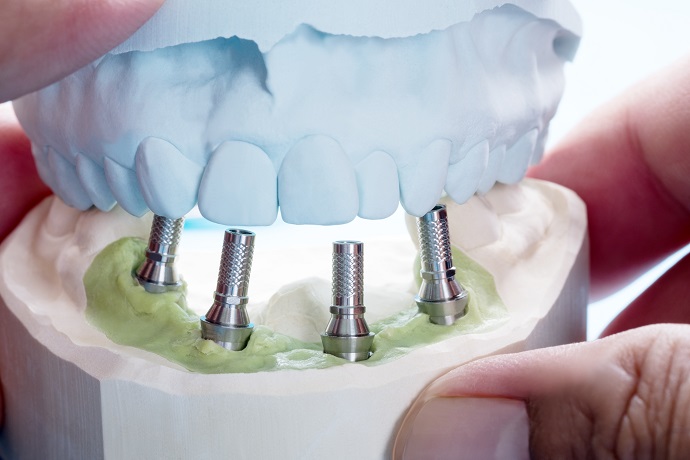 The "All-on" concept is a prosthodontic surgical procedure where "all" teeth are being supported "on four" or "on six" dental implants. This implant technique is done for the total rehabilitation of completely edentulous dental ridges or for people who have severely broken teeth, grossly decayed teeth, or compromised teeth due to gum disease. 
The All-on implant technique exhibits the following features:
Four dental implants to support a complete fixed bridge, 2 extra dental implants placed distally in case of All-on-6

The use of angulated implants in the back to overcome bony deficiencies or anatomical structures

Immediate loading
All-on-4 vs All-on-6: Which one is better?
The All-on concepts have thriving popularity among people with an incomplete dentition. However, different All-on implant procedures are deployed for different oral health complications and specific to the patient's needs. 
Differences in Nature
The obvious difference between the All-on-4 and All-on-6 dental implants is the number of screw-in implants used for the reconstruction of a severely damaged or edentulous jaw. The All-on-4 dental implant concept makes use of four dental implants, all placed anteriorly for the comprehensive utilization of available unresorbed and healthy bone without the need for supplementary bone grafting procedures.
The two distal implants are strategically angulated at a degree to maximize the anchorage and bone-to-implant contact. With All-on-6 dental implants, two additional titanium posts for dental implants are implanted to strengthen and effectively root the implants in place.
Differences in Indications
Dentists for 4 Smile inspect and thoroughly evaluate the patient prior to implantation. While the installation of All-on dental implants is essentially prescribed for patients with a significant tissue loss, or with severely broken irreparable teeth, various other rationales need to be considered before making the decision between All-on-4 and All-on-6 dental implants and taking such an extensive surgical stance.
Patients with narrow and less-sustainable jawbone are usually favorable cases for All-on-4 dental implants while patients with relatively healthy tissues and substantial jawbone are eligible for the All-on-6 dental implant programs. An insufficient jawbone cannot potently support the extra two implants, resulting in a shaky and unbalanced dental prosthesis. On the other end of the spectrum, by optimizing the use of jaw bone in the anterior maxilla and mandible, All-on-4 implants can underpin and brace the load of the dental prosthesis affixed with 10 to 14 artificial abutment teeth.
Differences in Stress Location and Distribution Pattern
Following the extraction of a tooth, bone thickness declines, and the whole arch may shrink and come inwards, discontinuing the natural contour of the arch. Furthermore, patients who have had dentures for an extended period of time often exhibit signs of bone deterioration and sunken faces due to unstimulated bone without teeth. If you are switching from the long duration of use of dentures, All-on dental implants may be your way to go.
Regarding stress distribution, All-on-6 dental implants are relatively better at even load dispersion over the entire dental prosthesis and thus can effectively keep the jawbone stimulated and prevents further bone loss. Covering a wider surface area with more dental implant posts, load stress can be distributed more evenly along the alveolar crest, accelerating the recovery process of the surgical implant sites and steering clear from placing unnecessary stress on the underlying bone. All-on-6 implant concept works better for this purpose than does All-on-4 implants that comparatively exert more stress on the jawbone.
Differences in Anchorage and Stability
A wider base of prosthesis support offered by the implant posts ensures that proper stabilization and anchorage are guaranteed. As with the stress distribution patterns, All-on-6 dental implants support the prosthesis better than All-on-4 dental implants and helps stabilize the denture and bridge bases. They offer better prosthesis stabilization for the patient to perform regular oral functions with ease and comfort.
Over time with the use of dentures, loosening is apparent and corrective measures need to be taken periodically to properly fixate and secure the dentures upon insertion. However, with the use of All-on implants, the concern around loosening is less prevalent. All-on-6 dental implants disperse even load over the dental prosthesis and along the alveolar ridges and provide better anchorage for the prosthesis as compared to the All-on-4 implants. They make sure that the prosthetic appliance maintains a sturdy placement and is comfortable and long-lasting to meet the patient's requirements.
The general principle of the All-on implant treatment concept is to certify the complete rehabilitation of the mouth and enable the patient to perform oral functions in daily life. The best way to verify whether you are eligible for the All-on-4 or All-on-6 implant technique is by visiting your dentist and completing a full evaluation of your oral tissues. Get easy appointment booking by contacting 4Smile!