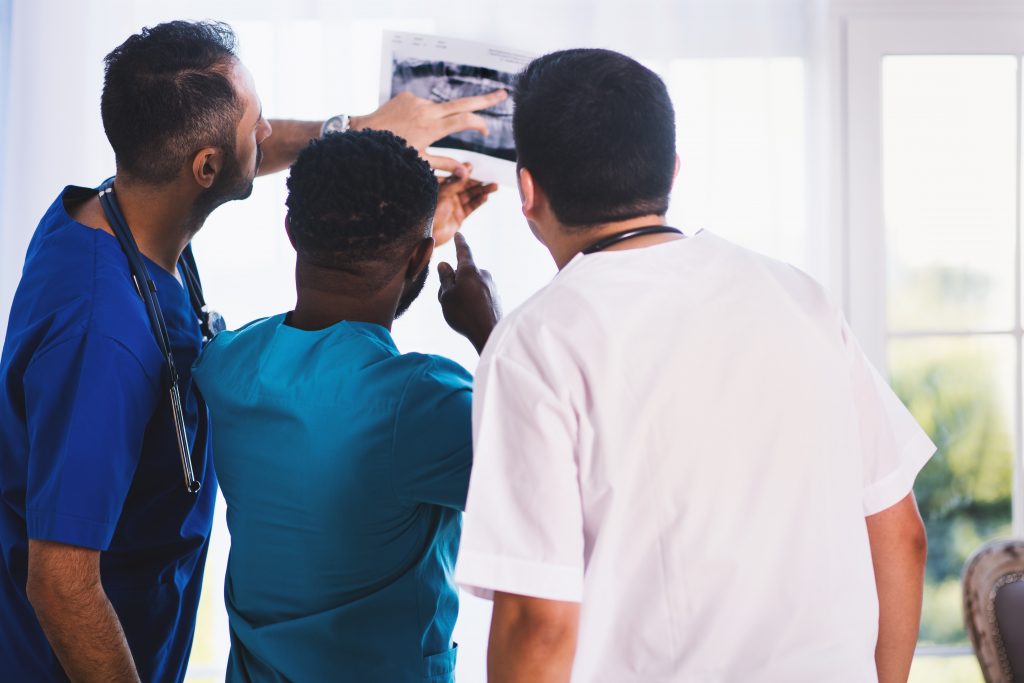 Different Dental Specialties and What They Do
December 30, 2019
137 Views
0 Comments
If you just need a routine exam or cleaning, you go to a general dentist, but is that the only type of dentist you should be visiting? Well no, when you have a complex case or an advanced dental condition, you will be referred to a specialist. A dental specialist is a person that received additional training and has advanced skills in a specific dentist specialty. In the US, there are nine dental specialties recognized by the
American Dental Association
. We are going to explain to you the different dental specialties and what they focus on.
Types of Dental Specialties
Pediatric Dentistry or Pedodontics
Although a general dentist can treat kids, pediatric dentists are specialized in the oral development of children and the specific oral conditions that can affect them. Their main goal is to teach kids how to take care of their teeth, provide advice to parents on how to guide their kids through the right dental care routine. They also know how to treat kids and make them feel comfortable, which is useful in cases of kids who are afraid of visiting the dentist.
Periodontics
These dental specialists do not specifically focus on teeth, but rather on the physical structures that surround teeth and support them. These structures are the gums, alveolar bone, and periodontal ligaments. Some of the most common cases they focus on are periodontitis (which is one main cause of tooth loss in adults) and gingivitis. They also perform surgeries like gum grafts or pocket reduction. And they know how to install dental implants and lengthen existing dental crowns.
Prosthodontics
Are you missing a tooth and need a new one? Then, you need to go to a prosthodontist. This dental specialist knows everything about restoring or replacing damaged teeth. They know how to achieve a functional and beautiful smile. Their main goal is to make a patient comfortable with their image while also restoring oral functionality. They are experts in procedures like dental crowns, bridges, partial dental prosthesis, and prosthesis to reduce defects in cases of cleft palate.
Endodontics
This is the specialist that you need to look for if you need a root canal. They specialize in all the internal structures of the tooth (the pulp, the chamber, the pulp canal, and all the structures around them). They focus on the diagnosis and treatment of diseases like pulpitis, pulp stone, and pulp exposure. They are also involved in the treatment of tooth abscesses and oral surgery.
Dental Public Health
Dentists who specialize in public health do not treat patients in a dental office like other types do. They focus on promoting dental health, educating their communities on good oral care, and preventing dental and gum diseases. Sometimes they go to school and teach kids good oral health practices like a proper tooth-brushing technique.
Orthodontics and Dentofacial Orthopedics
An orthodontist specializes in the treatment of misaligned teeth, gaps, underbite, overbite, and other defects of the jaw, bite, and teeth. They tend to apply non-surgical solutions like braces, retainers, wires, palatal expanders, or headgears. Although kids are the most common patients for these specialists, people of all ages receive treatments with them.
Oral and Maxillofacial Surgeon
Dottox
explains that this specialty is recognized as both a dental and medical specialty. They perform oral and maxillofacial surgery for a wide range of dental issues like the removal of wisdom teeth and impacted teeth. They perform dental implants, and also specialize in facial trauma surgery and corrective jaw surgery. They are experts in terms of diagnosing and treating conditions in both the mouth as well as the jaw and face region. Interesting fact: Besides the anesthesiologists, they are the only medical professionals that can administer all levels of anesthesia.
Oral and Maxillofacial Pathology
This specialty focuses on the pathologies of the oral cavity. They study the causes and effects of oral conditions and provide diagnoses. They make a great team with oral and maxillofacial surgeons.