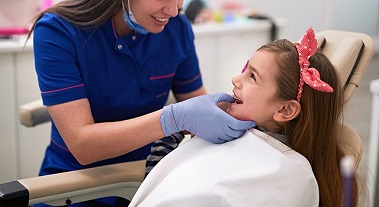 Family Dentist
April 7, 2020
882 Views
0 Comments
Having your children see a separate dentist because you obviously can't make appointments with their pediatric dentist may be inconvenient for your family. Luckily, family dentistry means you don't have to deal with different dentists. 
Many high-quality dental offices offer dental care services for all ages. That means they have teams designed to work with young children and adults. By finding a family dentist near you, you can also conveniently schedule multiple appointments in one visit.
Find a Trusted Family Dentist
Selecting the best family dentist for you and your family is an important decision. Because every family has different needs, it's important to make sure that the doctor you'll be working with can meet your demands. Does the dental office have the following:
Pediatric Dentist Experience – Because healthy oral hygiene starts early, you need a dentist who can teach your child the importance of brushing and flossing, while being engaging. In return, the dentist and their staff should do their best to keep parents informed about how their child is doing and what they should be doing at home.  Just because a dentist went to a great dental school doesn't mean they know how to work with kids. Finding a dentist your child will be comfortable with will help ensure you and your child have a positive experience at the dentist.D
Specialists – Sometimes dentists refer out certain jobs to specialists with a focus on the area that needs to be corrected. The most common example of this is orthodontics. This area of dentistry plays particular attention to straightening the teeth and fixing bites and occlusions.
Helpful Resources – Does your dentist offer online services? Can you find answers to questions online? How easy is it to schedule an appointment? These are all important questions you will want to ask. Because families with children often juggle busy schedules, being able to communicate with your family dental office should be easy.